Structured workplace learning is on-the-job training during which a student is expected to master a set of skills or competencies related to a course accredited by the Victorian Registration and Qualifications Authority (VRQA) or the Australian Skills Quality Authority (ASQA), and undertaken as part of either the Victorian Certificate of Education (VCE) or the Victorian Certificate of Applied Learning (VCAL).
The Structured Workplace Learning (SWL) Portal has been established in conjunction with the Department of Education and Training.  This website provides school teachers and students with an easy to navigate, single information and referral point for a diverse range of high quality SWL placement opportunities. The website is searchable by industry and location. 
See the video clip produced by Goulburn Murray LLEN for an explanation of Structured Workplace Learning and how to access the SWL Online Portal to find SWL placements.
Find out more on the Victorian DET Website
Resources
The SWL program has developed resources to assist with workplace learning.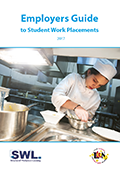 The Wimmera Southern Mallee LLEN has published an Employer Guide which is provided free of charge to employers hosting a workplace student.
For your FREE copy of the employer guide please contact the Structured Workplace Learning Coordinator at Wimmera Southern Mallee LLEN.

The SWL program has developed log books for students in a Structured Workplace Learning setting to keep record of activities conducted during the work placement.
Log Books will be supplied free of charge at the commencement of the school year to schools in the Wimmera Southern Mallee region. Log books are available to schools beyond the Wimmera Southern Mallee LLEN region for a small cost. Please contact the SWL Coordinator to order copies for your school.
The Structured Workplace Learning (SWL) Coordinator can assist schools with information and support to find work placements for students.
Contact us to find out more about Structured Workplace Learning:
Structured Workplace Learning (SWL) Coordinator
Wimmera Southern Mallee LLEN
Email
Phone 03 538 10122